Chapter 2 – Salvation and Wellbeing
In this chapter we begin to consider the ways scripture can help improve our wellbeing. To do this, let's start from the beginning, salvation! This chapter explores Teleios' and others' research regarding salvation and wellbeing.
Christianity is generally associated with positive wellbeing and a positive relationship with God (1,2). How does a person enter into a positive relationship with God, in other words, become a Christian and enjoy the associated good wellbeing?
How to become a Christian – the Gospel!

Scripture provides the clear sure pathway! It states an adverse relationship with God may be corrected by admitting our sin and need for forgiveness, recognizing that Christ died on the cross for all wrongdoings, so we could receive forgiveness. We receive this forgiveness by simply asking God by faith to forgive us and correct our relationship with Him.
Scripture declares:
Ephesians 2:8-9 – For it is by grace you have been saved, through faith—and this is not from yourselves, it is the gift of God— not by works, so that no one can boast.
AND
Romans 10:9 – If you declare with your mouth, "Jesus is Lord," and believe in your heart that God raised him from the dead, you will be saved.
It's as simple as that, 4 steps (Ephesians 2:8-9; Romans 10:9-10; and Romans 3:21-26):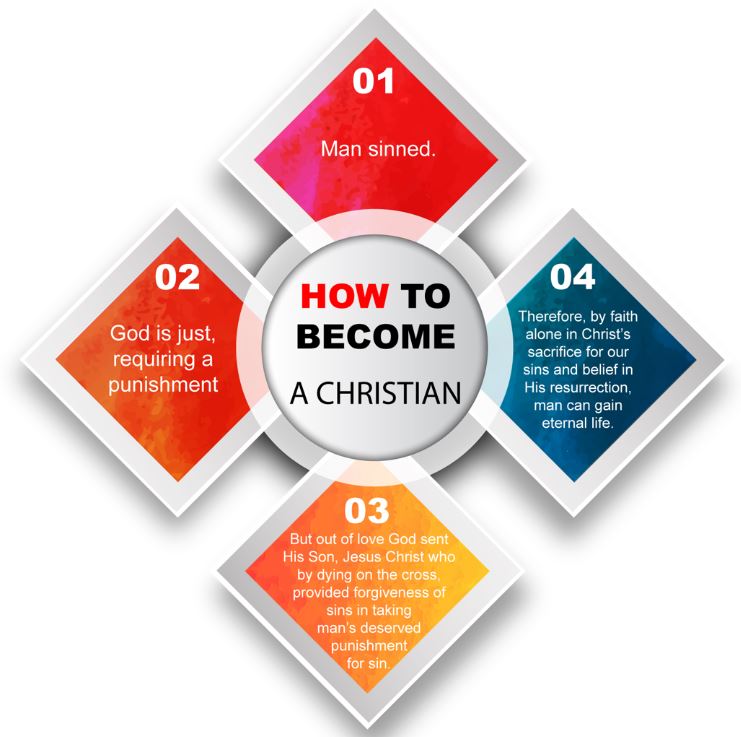 Man sinned.
God is just, requiring a punishment for sin.
But out of love God sent His Son, Jesus Christ who by dying on the cross, provided forgiveness of sins in taking man's deserved punishment.
Therefore, by faith alone in Christ's sacrifice for our sins, and belief in His resurrection, man can gain eternal life.
If you have not done so, take this first step to enter a sure relationship with God
Now let's explore together how this relationship will enhance your life and you, in turn, will benefit others.
Positive results of becoming a Christian
Bible-based Christianity generally improves wellbeing. These data come from several main sources.
Teleios Research – We have found through prospective surveys and studies that Christianity helps wellbeing both generally and from additional specific measures. We will discuss these findings in greater detail throughout these chapters.
Publications – Peer-reviewed scientific studies support improved wellbeing with Christianity! Many studies in the medical literature indicate wellbeing is improved by the practice of religion. Importantly, almost all these medical studies were performed in historically Christian countries. This suggests that most all the subjects in the studies would have been either social or believing Christians. Many of these studies can be seen in our published reviews and are available on our website here – publications. Otherwise, they can be searched on Pubmed.
So let's examine the impressive findings of Teleios and other medical literature which have shown that wellbeing is improved in Christians or religious people in Christian countries, affecting:
Demographics – All age groups (10 years and older), both genders, and African-American as well as Caucasian races (2-11). 
Broad wellbeing effect – Specific wellbeing related measures such as: sense of purpose, satisfaction, hope, stronger social relationships, and ability to forgive (1,12).
Social measures – Vital areas of life such as the family, career, a sense of community and socialization.

Family life – Christianity is associated with good health and higher levels of education and less substance abuse in the children (13). Family religiosity predicts better functioning for parents (14), better social network, and ties with families of friends (Smith, 2003). Further, church promotes happy marital relationships by encouraging spouses, especially the men, to live decent lives and to treat their partners decently (15).
Careers – Christianity helps people's ability to make career decisions and assists them to being open to a variety of career options. They also have been shown to have more positive feelings toward work (16,17).
Service – Those who serve in or outside the church have better wellbeing questions including: contentment, peace, joy, purpose and community acceptance (1).

Practice of the faith – Those who practice the faith especially engaging in prayer, praise, fellowship, church attendance, studying the Bible and outreach to others have better wellbeing than those who do not. Further, the more one practices their faith the better generally will be their wellbeing.
Physical health, healthy and patient populations – Christianity assists wellbeing in specific diseases including: glaucoma, rheumatoid arthritis, various cancers, chronic pain, fatigue, diabetes, diabetic eye disease, congestive heart failure, and HIV (18,22).
Compared to other faith or non-faith groups
Teleios has demonstrated that wellbeing is better specifically in evangelicals than other self-identified Christian groups and also non-believers. To accomplish this, Teleios conducted a survey on two Instagram accounts frequented by adolescents and millennials; one being mostly followed by Christians and another by the general population. There were 1186 responses. The majority of responses were: female (68%), less than 30 years (76%), and primarily from the United States (40%). The respondents identified themselves as: evangelical Christians (33%), social Christians (29%), Christian seekers (5%) and non-Christians (33%).
Personal wellbeing was better among evangelical Christians (4.6, on a scale of 0-6 with 6 being highest) compared to social Christians (4.1), Christian seekers (4.0) or non-Christians (4.3, P=0.001). The findings for wellbeing were also supported by further results that evangelicals were more content (P=0.001), at peace (P>0.001), and joyful (P=0.002) than the other groups (see Figure).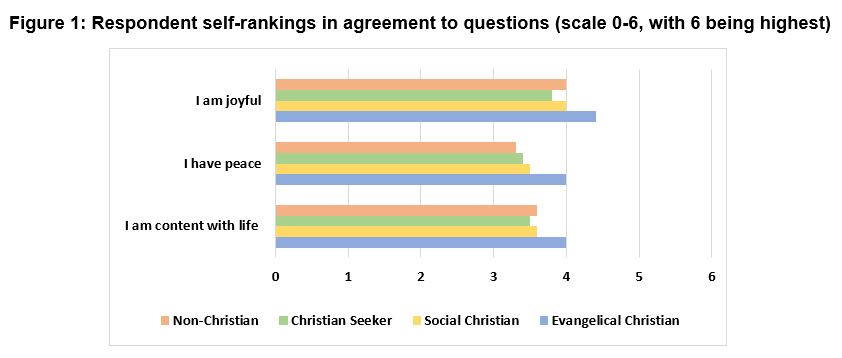 Religion and negative influences
In contrast, religion has shown very few negative effects on wellbeing. Most commonly these have been related to the limited expression of one's faith to either internal or external religious activities alone or to those who have an adversarial relationship with God (23). The latter type of person might be one who does not understand grace as a means to salvation, and instead is working to try to satisfy God.
Indeed, it is striking to see that so many researchers have found, through scientific studies, the benefit of religion on wellbeing in Christian countries. These data are extensive and consistent enough that perhaps no other proof is needed from a scientific standpoint.
We have a great God who has benefited us with salvation through Christ by grace and provided scripture that through the power of the Holy Spirit we can live useful and joyful lives.
Christianity and wellbeing on the college campus!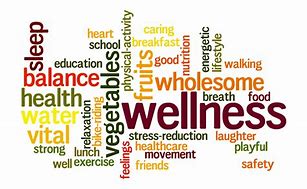 Teleios also has evaluated also the positive effect of Christianity on college students. These studies will be described in further chapters. However, they are instructive here in that while all evaluated groups demonstrated good wellbeing, in one of the two studies evangelicals had significantly better wellbeing than the non-religious, social Christians and Catholics.
In the other study those Christians who indicated they were both evangelical and saved by grace reported better wellbeing than the other groups, and those who identified as evangelical, saved by grace and adherent to the Christian walk, none of them had poor wellbeing.
We have a merciful God who has made us and knows what is good for us. He gives us the tools through salvation, the Spirit and His word to improve our wellbeing during our time on earth.
References
MacIlvaine WR, Nelson LA, Stewart JA, Stewart WC. Association of strength of community service to personal well-being. Community Ment Health J 2014;50:577-82.
MacIlvaine WR, Nelson LA, Stewart JA, Stewart WC. Association of strength of religious adherence to quality of life measures. Complement Ther Clin Pract 2013;19:251-5.
Francis LJ, Kaldor P. The relationship between psychological well-being and Christian faith and practice in an Australian population sample. J Sci Study Relig 2002;41:79-184.
Francis LJ, Robbins M, Lewis CA, Quigley CF, Wheeler C. Religiosity and general health among undergraduate students: a response to O'Connor, Cobb, and O'Connor (2003). Pers Indiv Differ 2004;37:485-94.
Leondari A, Gialamas V. Religiosity and psychological well-being. Int J Psychol 2009;44:241-8.
Koenig LB, Vaillant GE. A prospective study of church attendance and health over the lifespan. Health Psych 2009;28:117-24.
Krause N. God-mediated control and change in self-rated health. Int J Psychol Relig 2010;20:267-87.
Hamilton JB, Moore AD, Johnson KA, Koenig HG. Reading The Bible for guidance, comfort, and strength during stressful life events. Nurs Res 2013;62:178-84.
Smith C. Religious participation and network closure among American adolescents. J Sci Study Relig 2003;42:259-67.
Demir M, Urberg KA. Church attendance and well-being among adolescents. J Belief Values 2004;25:63-8.
Markstrom CA. Religious involvement and adolescent psychosocial development. J Adolesc 1999;22:205-22.
Stewart WC, Reynolds KE, Jones LJ, Stewart JA, Nelson LA. The source and impact of specific parameters that enhance well-being in daily life. J Rel Health 2016;55:1326-35.
Caputo RK. Parent religiosity, family processes, and adolescent outcomes. Fam Soc: J Contemp Soc Serv, 2004;85:495-510.
Agate ST, Zabriskie RB, Eggett DL. Praying, playing, and successful families: an examination of family religiosity, family leisure, and family functioning. Marriage & Family Review 2007;42:51-75.
Wilcox WB, Wolfinger NH. Living and loving "decent": religion and relationship quality among urban parents. Soc Sci Res 2008;37:828-43.
Duffy RD, Blustein DL. The relationship between spirituality, religiousness, and career adaptability. J Voc Behav 2005;67:429-40.
Martinson OB, Wilkening EA. Religion, work specialization, and job satisfaction: interactive effects. Rev Relig Res 1983;24:347-56.
Stewart WC, Sharpe ED, Kristoffersen CJ, Nelson LA, Stewart JA. Association of strength of religious adherence to attitudes regarding glaucoma or ocular hypertension. Ophthalmic Res 2011:45:53-6.
Chen S, Yu W, Chu T, Hung H, Tsai M, Liao C. Prevalence and correlates of supportive care needs in oral cancer patients with and without anxiety during the diagnostic period. Cancer Nursing 2010;33:280-9.
Cotton S, Levine E, Fitzpatrick C, Dold K, Targ, E. Exploring the relationships among spiritual well-being, quality of life, and psychological adjustment in women with breast cancer. Psychooncology 1999;8:429-38.
Matthews D, Marlowe S, MacNutt F. Effects of intercessory prayer on patients with rheumatoid arthritis. Southern Medical Journal 2000;93:1177-86.
Silvestri, G., Knittig, S., Zoller, J., & Nietert, P. (2003). Importance of faith on medical decisions regarding cancer care. Journal of Clinical Oncology, 21, 1379–1382.
Stewart WC, Adams MP, Stewart JA, Nelson LA. Review of clinical medicine and religious practice. J Relig Health Mar 2013;52:91-106.