SERVICE
How can the Bible assist you in living a more contented, purposeful life? We have explored in prior chapters the foundation of salvation by faith, security and growth in the Lord and how they affect wellbeing. This chapter explores the enriching topic of service to other people both within or outside the church. To fully serve God we need to turn our thoughts away from ourselves, as we are able, and reach out to others, not only using gracious speech, but our actions as well (1 Peter 4:10).
How are we to act towards others outside the church?
We know that the church of Jesus Christ is pivotal for its members, which include all Christians in promoting the walk with God as well as research from Teleios and others have shown it promotes personal wellbeing. However, Christ sent us into the world to preach the gospel (Matthew 28:19-20) and not to live in an isolated fashion.
How then do we treat others outside the church?  The Bible gives us guidelines:
How are we to help others inside the church? Scripture says that we are to assist each (beyond how we treat each other) inside the body of Christ in a variety of ways:
Teleios Research on service and wellbeing
Amazingly, the service we provide to others helps ourselves by enhancing our knowledge of God (Colossians 1:10), and our own wellbeing (please see below).
Of course, the benefit of serving others is not limited to the person giving but also to the individual or communities receiving the help.
Although the benefit of service has been little studied scientifically to our knowledge, we believe that assistance to communities and giving to individuals promotes a gracious and courteous culture which allows all to pursue their best.
Service and wellbeing study – Teleios recently evaluated the effect of personal service on wellbeing at Grace Community Church.[1] We surveyed 309 adults in two services on one Sunday.
Mean scores for wellbeing questions based on responses to the service question
(0 = completely accurate; 6 = completely inaccurate)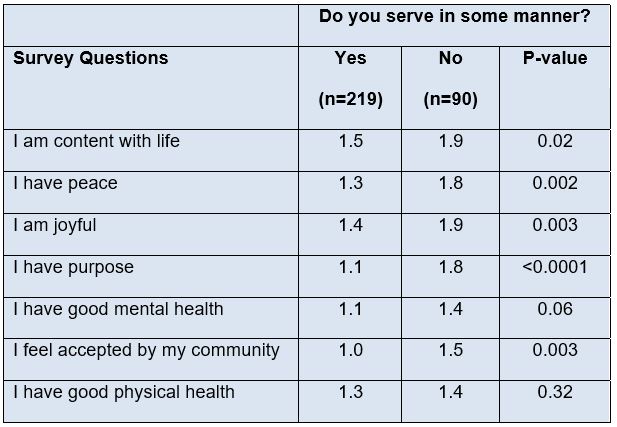 The survey showed that individuals who routinely participated in a community or church-based service program, compared to those who did not, had better wellbeing scores in contentment, peace, joy, purpose and community acceptance. Wow! Who wouldn't want that? Additionally, people who served had a better global wellbeing score (average of seven questions together) than those who did not serve.
Interestingly, the study showed the benefit of service might occur with as little as one hour a week helping others! The benefit was even greater when people served up to 6 hours per week. In addition, the perceived benefit of the service did not depend on the type of service, whether inside the church or in non-church sponsored community service
Why would personal service would help wellbeing? We don't know this answer for certain but there are several potentials:
Serving others provides us with a sense of purpose.
Serving provides a comfort that our lives are useful.
When we serve we realize we are being obedient and living consistently with God's desires.
Our own problems are put into proper perspective not only by perceiving the suffering of other people but also by ordering our own priorities under God's.
By serving we focus less on our own troubles perhaps reducing the emotional burden of these problems.
In summary, service is fundamental to our Christian walk both inside and outside the church. It has the advantage of enhancing our own wellbeing, uplifting other individuals as well as our society in general and allowing us to know God better.
[1] MacIlvaine WR, Nelson LA, Stewart JA, Stewart WC. Association of strength of community service to personal wellbeing. Community Ment Health J 2014;50:577-582
Tell us what you think of this material!